It saddens our hearts to inform you that our friend Don Cashmore, "Cash" Passed away on Monday, May 23, 2011  In Memory of "Cash"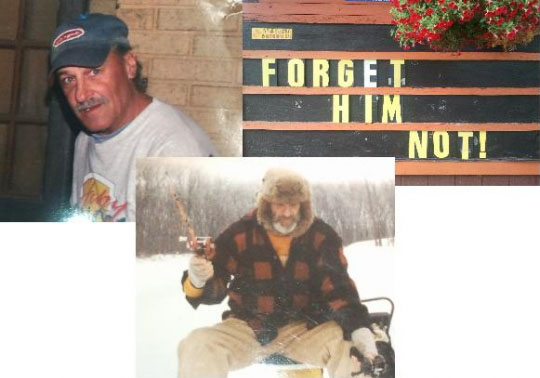 Don Cashmore of New London died unexpectedly on Monday, May 23, 2011 at age 64 , following complications from heart surgery. Cash was born on August 15, 1946, in Chicago, IL, son of Floyd and Marie (Gingras) Cashmore. He graduated from Taft High School where he was a top athlete, in 1963. He was a proud veteran of the Viet Nam war having served in the U.S. Marine Corps. He owned and operated Cash's Little Shoppe of Bait in New London for 17 years, where he enjoyed spending quality time with his "groupies." He championed many causes including the Crandon Mine debate and the Mourning Dove issue.
He is survived by four sisters, Kathryn (Ralph) Brensike, Rio, WI; Joanne Cashmore, Rio, WI; Darlene Wass, Rolling Meadows, IL; and Lori (Andrew) DeKock, Adams, TN; special friend, Julie Blohm, New London; and Cash's faithful volunteers, Toni, Cara, Ann, Johnny, Josh, Betsy, Ian, Shawn, Tasha, Dalton, Mathew and Marcus . He is further survived by numerous nieces, nephews, other relatives, and friends. He is preceded in death by a brother, John Lukits and a sister, Karen Smith.
Funeral services were held on Friday, May 27, 2011 at 11:00 a.m. at Cline & Hanson Funeral Home, New London, with a celebration of Cash's life following at the Wolf River Pavilion. Full military honors were at 12 noon at the Wolf River Pavilion. Visitation was held at the funeral home on Friday from 10:00 a.m. until the time of service. Cash's Little Shoppe of Bait was closed on Friday in his honor and reopened on Saturday with normal business hours.